Postgraduate Seminar: Kylie Yang
Wednesday, 30 September 2020. 11am – 12pm.
This seminar will be delivered via Zoom – Please email chemistry.researchsupport@sydney.edu.au for zoom link and password.
Kylie Yang, PhD Candidate, School of Chemistry.
Host: A/Prof Elizabeth New
Fluorescent Tools for Imaging Disease Microenvironments
As our understanding of molecular biology broadens, we gain a deeper understanding of the molecular signatures and microenvironments associated with disease. In conjunction, better understanding of activatable fluorophores and the chemical transformations that occur within biological systems has enabled the development of numerous molecular probes and sensors. It is now possible to selectively sense chemical species associated with disease, and use biochemical transformations to create activatable therapeutics.
This work consists of two topics. Firstly, we will focus on detecting hypoxia, which is defined as a deficiency of oxygen in tissues. Hypoxia is present within solid tumours and it is associated with poor treatment outcomes and treatment resistance. We have therefore developed both hypoxia targeted imaging tools1 and theranostics. Secondly, we will investigate ways to build a sensitive new assay for detecting matrix-metalloproteinases, which are proteases involved in joint erosion in a number of diseases including arthritis. The finding of this study has revealed an interesting link between inflammation and protease activity.2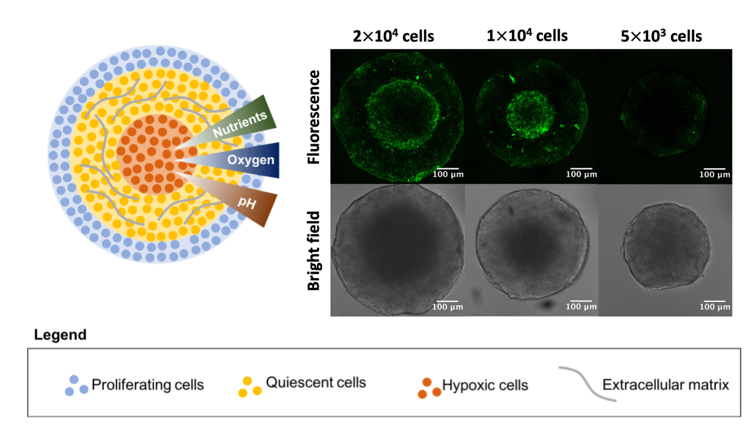 Figure 1: Diagram of a hypoxic tumour model (left) and fluorescence microscopy images obtained with our hypoxia sensor (right)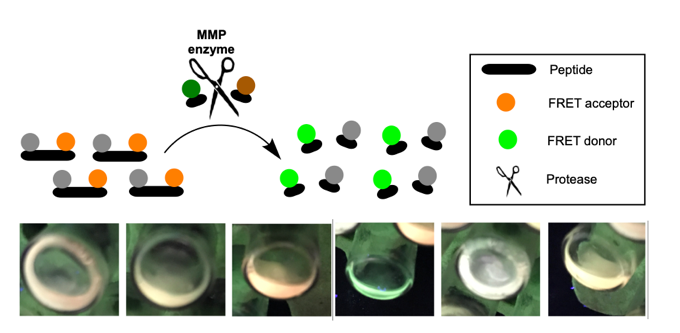 Figure 2: A schematic representation of a fluorescent protease probe (top) and pictures of the probe in synovial fluid collected from various patients with arthritis (bottom)
References:
Yang, K., Leslie, K. G., Kim, S. Y., Kalionis, B., Chrzanowski, W., Jolliffe, K. A., New, E. J., (2018). Tailoring the properties of a hypoxia-responsive 1,8- naphthalimide for imaging applications. Organic and Biomolecular
Chemistry, 16(4)
Patent application number: 2019903460. Inventors: Kylie Yang, Katrina Pavic, Elizabeth New, Nicholas Manolios. Title: Matrix metalloproteinase probes and diagnostic and prognostic methods. Year: 2019.