CANCELLED – School Seminar: Professor Melanie Sanford, University of Michigan
PLEASE NOTE THIS SEMINAR HAS NOW BEEN CANCELLED
We hope to reschedule this seminar for later this year. 
Friday, 14 August 2020, 11am – 12pm
This seminar will be delivered via Zoom – Please email chemistry.researchsupport@sydney.edu.au for zoom link and password.
Prof Melanie Sanford, Moses Gomberg Distinguished University Professor of Chemistry, Arthur F. Thurnau Professor of Chemistry, University of Michigan, Department of Chemistry [Email: mssanfor@umich.edu]
Host:  Prof Richard Payne, Molecular Innovations in Health
New Synthetic Methods for C–F Bond Formation: From Fundamental Science to Applications
This presentation will describe our group's recent advances in developing metal-mediated/catalyzed methods for introducing fluorine into organic molecules. Our efforts into this area are guided by detailed fundamental studies of stoichiometric organometallic bond-forming reactions. These fundamental studies will be described in detail, and their translation to practical applications (particularly in the context of the synthesis of PET imaging agents) will be discussed.
Biography
Melanie S. Sanford is currently the Moses Gomberg Distingished University Professor of Chemistry and Arthur F. Thurnau Professor of Chemistry at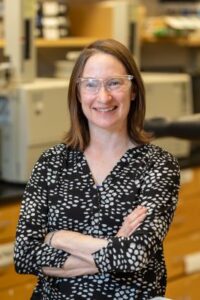 the University of Michigan, Ann Arbor. She received her B.S. and M.S. degrees at Yale University in 1996 where she carried out undergraduate research in the laboratory of Professor Robert Crabtree. She pursued graduate studies at the California Institute of Technology working with Professor Robert Grubbs. Following postdoctoral work at Princeton University with Professor John Groves, she joined the faculty at the University of Michigan in the summer of 2003 as an Assistant Professor of chemistry. She was promoted to associate professor in 2007, to full professor in 2010, to Arthur F. Thurnau Professor of Chemistry in 2011, and to Moses Gomberg Collegiate Professor of Chemistry in 2012. She has won a number of awards, including the ACS Award in Pure Chemistry, the Sackler Prize, the Blavatnik Award, and a MacArthur Foundation Fellowship. She is a member of the National Academy of Sciences and a Fellow of the ACS. Research in the Sanford group aims to develop new chemical reactions that enable the production of pharmaceuticals, agrochemicals, and fuels in a more efficient and environmentally friendly manner. For example, her research focuses on converting simple and readily available starting materials (for example carbon dioxide, carbon-hydrogen bonds) into much more complex products through the use of transition metal catalysis.