School Seminar: Professor Steven Castle; Brigham Young University
Friday, 4 March 11:00am – 12:00pm
This seminar will be delivered in Chemistry Lecture Theatre 4 and Online – Zoom Please email chemistry.researchsupport@sydney.edu.au for zoom link and password.
Speaker: Professor Steven Castle; Brigham Young University
Host: Professor Rich Payne
Title: New Strategies for the Synthesis of Unusual Peptides and Alkaloids
Abstract: The complex structures of peptide and alkaloid natural products provide inspiration for the development of new methods in synthetic organic chemistry. Additionally, the potent and selective bioactivity of many of these compounds provides opportunities to use organic synthesis to answer important questions in chemical biology. Results from our synthetic efforts targeting the peptide yaku'amide A and related analogs will be presented, and the anticancer activity of these compounds will be discussed. In addition, our efforts to use the methodology developed in this endeavor to evaluate the ability of dehydroamino acids to increase the proteolytic stability of peptides will be described.
Microwave-promoted reactions of iminyl radicals provide straightforward and efficient means of constructing nitrogen-containing compounds. Our results in this area will be presented, including iminyl radical fragmentations and cyclizations. Application of a novel iminyl radical cascade reaction to the synthesis of the alkaloid virosinine A will be described.
Biography: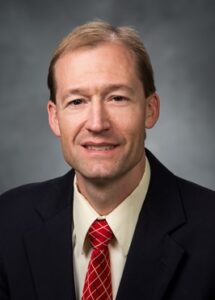 Steven L. Castle was first exposed to organic chemistry through working in the laboratory of his grandfather, Prof. Raymond N. Castle of the University of South Florida, during summers in high school. He received his B.S. with Honors in chemistry from Brigham Young University in 1995, where he performed research with Prof. Jerald S. Bradshaw. He earned his Ph.D. in 2000 from The Scripps Research Institute under the direction of Prof. Dale L. Boger. Upon completing an NIH postdoctoral fellowship in the laboratory of Prof. Larry E. Overman at the University of California, Irvine, he began his independent career at Brigham Young University in 2002. His research interests encompass the development of new synthetic methods targeting complex bioactive natural products, studies of their modes of action, and peptide science. He is the recipient of a Research Innovation Award from Research Corporation, a Long-Term Invitation Fellowship from the Japan Society for the Promotion of Science, and the Wesley P. Lloyd Award for Distinction in Graduate Education from Brigham Young University.